Spring is in the air. You tackled your spring cleaning list and feel organized, refreshed, and ready to bring on summer. Then you look at your calendar and see graduation dates. Not to mention the wedding and baby showers you offered to host. Feelings of contentment can move to pressure when your home turns into a bed and breakfast and an event space!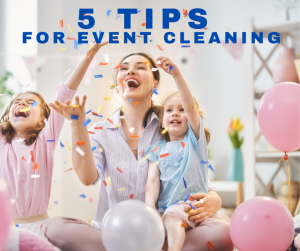 You can put a plan in motion now that will ensure you are not spending the day before your event doing last-minute cleaning at a frantic pace, leaving you exhausted on the big day. You have other lists to complete. You need to make guest lists, decide on a theme, think about food, visualize your décor, and shop.
Maids & More has your cleaning covered! Follow this 5 Step Plan and your home will be ready to host guests and events in no time!
 1.  Use the Week Before
Things get dirty because you live in your home. Even those of us who maintain a consistently clean home will have additional challenges if we are hosting an event. Thespruce.com has a guide to help you Prepare Your Home Before a Party.  Look at the week prior to your big day and break additional chores into manageable daily tasks. Divide and conquer. Give each day a cleaning theme. 
      2. Take It Out of Rotation
Your established cleaning schedule may not serve you when you have a break in your routine. Your usual Saturday laundry will not work if you are having an open house for graduation that day. Make a list of things you can skip for a week. Include shifting tasks when you plan your week to accommodate your event schedule. 
      3.  Target Least Used Spaces
Make sure to take inventory of spaces that may not be used regularly in your house. Walkthrough them and pretend you are a guest. Guest bedrooms are a perfect example. Think about the need to dust and freshen up linens for any overnight guests. Freshen up guest bathrooms and make sure they are stocked with soap, toilet paper, and towels.Hgtv.com has 15 Spots You Absolutely Have to Clean Before Guests Arrive.
      4.  Save It For Last  
Save the jobs that are going to get repeated if you clean too early. List the cleaning you should save for the day before your event. Bhg.com can help you plan with their Cleaning Tips for a Party-Ready House: Easy 7-Day Plan. Do not forget to include things like cleaning out the refrigerator and making room in a closet for extra purses and coats.  Party space cleaning and touch-ups should be the last thing you do. 
       5.  Book a Cleaning with Maids & More!
Big events can be too much for you to handle on your own. You may already be dealing with furniture moves and decluttering spaces to make way for things like rented furniture on top of cleaning rooms you do not normally need to clean. Book a whole house cleaning at the same time you book everything else for your event.         
Let Maids & More give your home a top to bottom cleaning before your next big event. Take the stress out of preparing and give yourself more time to enjoy your guests or do the fun parts of hosting a party! The experts at Maids & More offer custom, detailed cleanings for your entire home that will leave your house fresh and feeling brand new again. Maids & More understands how much time it takes to clean your whole home. 
When you are getting ready for a big event or party at your home, Maids & More in Omaha are the extra set of hands you need.
Call 402-572-6243 for a Free Estimate! Or book your cleaning here!  Happy Hosting!