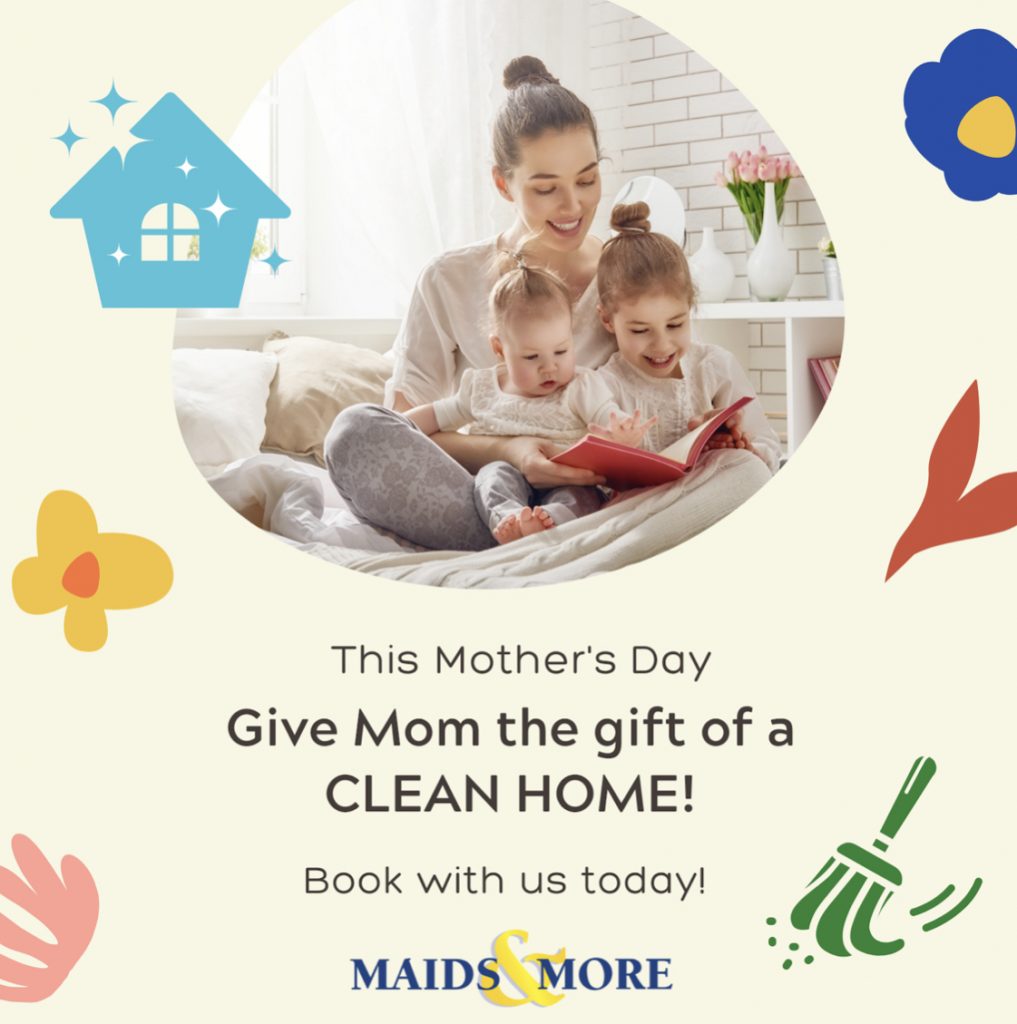 Mothers are different. We have different family sizes. We are in varying stages of motherhood. Some of us have a newborn. Some of us have an empty nest. Many of us spend a large amount of time driving someone somewhere. We are probably all being asked what is for dinner on a regular basis.
Mother's Day is approaching. We are thinking about what to get our mothers to express our appreciation for everything that they are to us. If we are also a mother, we may be dropping some hints about our own gifts. We are making plans to get together to celebrate the day.
We are familiar with the safe options. The standards tend to be flowers and heart-felt cards. If we are lucky, the cards are homemade and carry even more meaning. There is nothing wrong with flowers or cards. This year presents an opportunity to add the ultimate gift to that traditional combination: time.
All of us seem to need more time.  Thesimpledollar.com has Holly Johnson reflecting on How Hiring a Housekeeper Saved My Sanity and My Marriage.  It is the year 2021 but as mothers, no matter what our schedules or obligations outside of our homes, we still tend to put the pressure of a presentable house squarely on our own shoulders. Our downtime disappears and becomes hours of housework.
 Imagine the benefits that come with the gift of time. You are not only giving your mother or yourself a cleaner home. You are giving the gift of less stress, more productivity, and more happiness. Not only that, but it is a gift that keeps on giving.  
NBC News gives insight into the wellness benefits that can come from hiring cleaning help in their article How Hiring a House Cleaner Made Me Happier, Healthier and More Productive.  Many of us also find ourselves working from home right now. Our 'mom eyes' have a hard time turning off and not seeing the house cleaning that awaits us. It stays in the background of our day and can serve as a distraction. That can impact our job performance. 
The other part of the equation is that mothers tend to put all other needs before their own. We ask our mothers what they want for Mother's Day and tend to get the response, "You do not have to get me anything. Spending time together is enough." If you are a mother, you probably say the same thing. It is a true statement, of course, but it comes from that place of self-sacrifice mothers tend to live in.
This year, we should all choose not to listen to that statement. We should give the gift of hours back in our days.  We can transform our mother's homes and our own and let someone else do the heavy lifting when it comes to cleaning. 
Every mother, in every stage of motherhood, deserves to feel good. That can start with taking something away from our list of things to do. We cannot take care of others at the expense of taking care of ourselves. An hour of story time with our little ones or an excursion with our teenager about to leave home beats an hour of cleaning the bathroom any day of the week.
Give your mom the gift of time and ask her out to lunch. She will have the time to do it and will not be thinking about all the cleaning she needs to do when she gets home. It will be the best Mother's Day gift she has ever gotten, apart from anything you made her all by yourself, of course. 
Maids & More offers a variety of options for Mother's Day gift giving. We can adjust pricing based on the services you need.  We offer no-obligation, same day estimates. Give the gift of a clean home for mom this year! 
Call 402-572-6243 for a Free Estimate! Or book your cleaning here! Happy Mother's Day!